Performance Management
Build the best work environment in your company, boost the potential of your employees and take them to the highest level with performance evaluations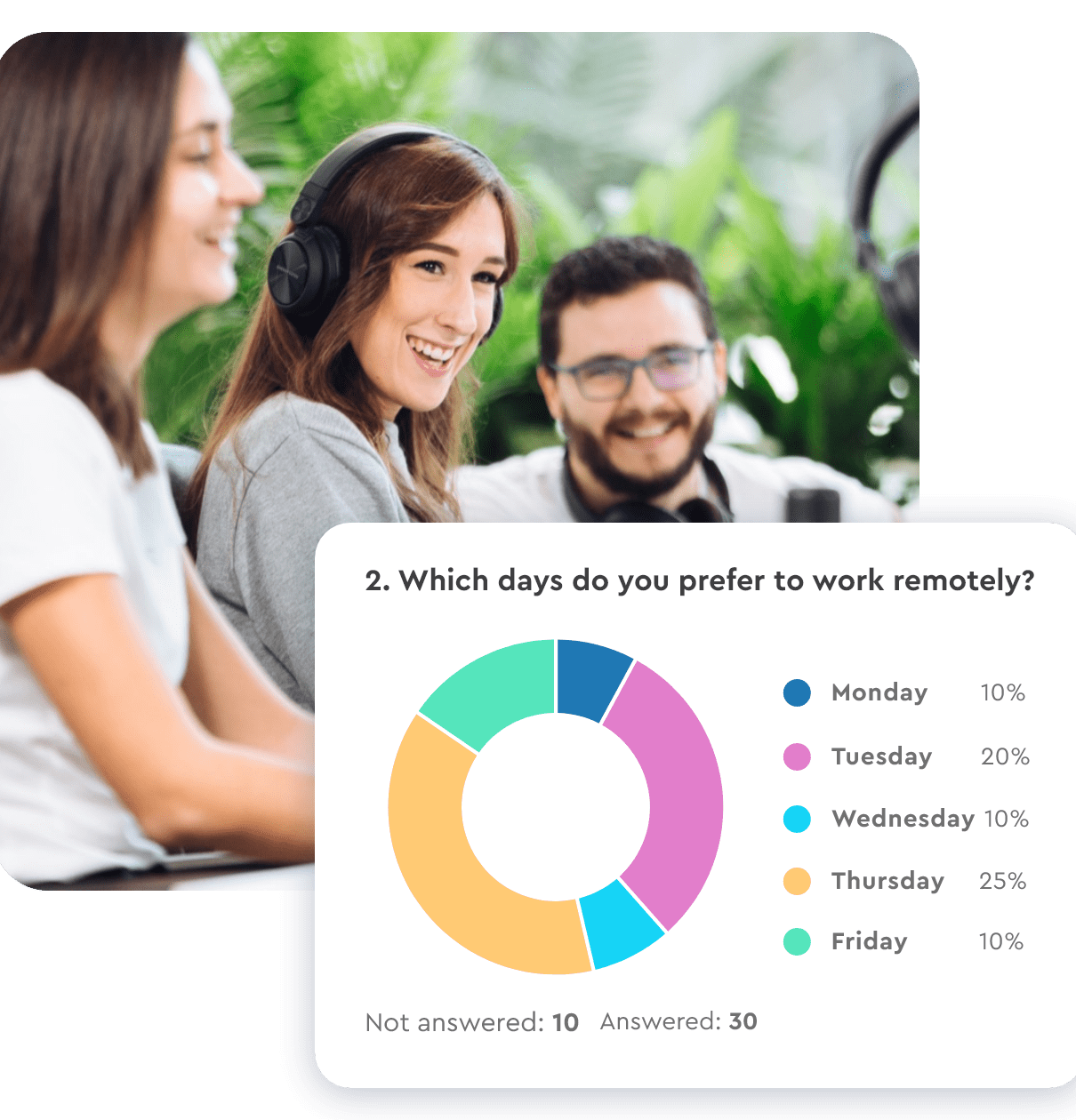 A performance evaluation dashboard that you will want to consult
Check the status of evaluations and analyze their results visually with all information centralized. More insights in less time.

Performance evaluation 360
Analyze your team's commitment with a broader vision
Measure the performance of your staff with 360° feedback. Send a questionnaire to your team and assign evaluators capable of giving their point of view: managers, colleagues and self-evaluations.
Improve communication and engagement
Support feedback by giving a voice to all departments in your company.
Encourage growth opportunities
Analyze weaknesses and leverage the strengths of your employees.
Promote talent retention
Identify opportunities and create a career plan for your team's professional development.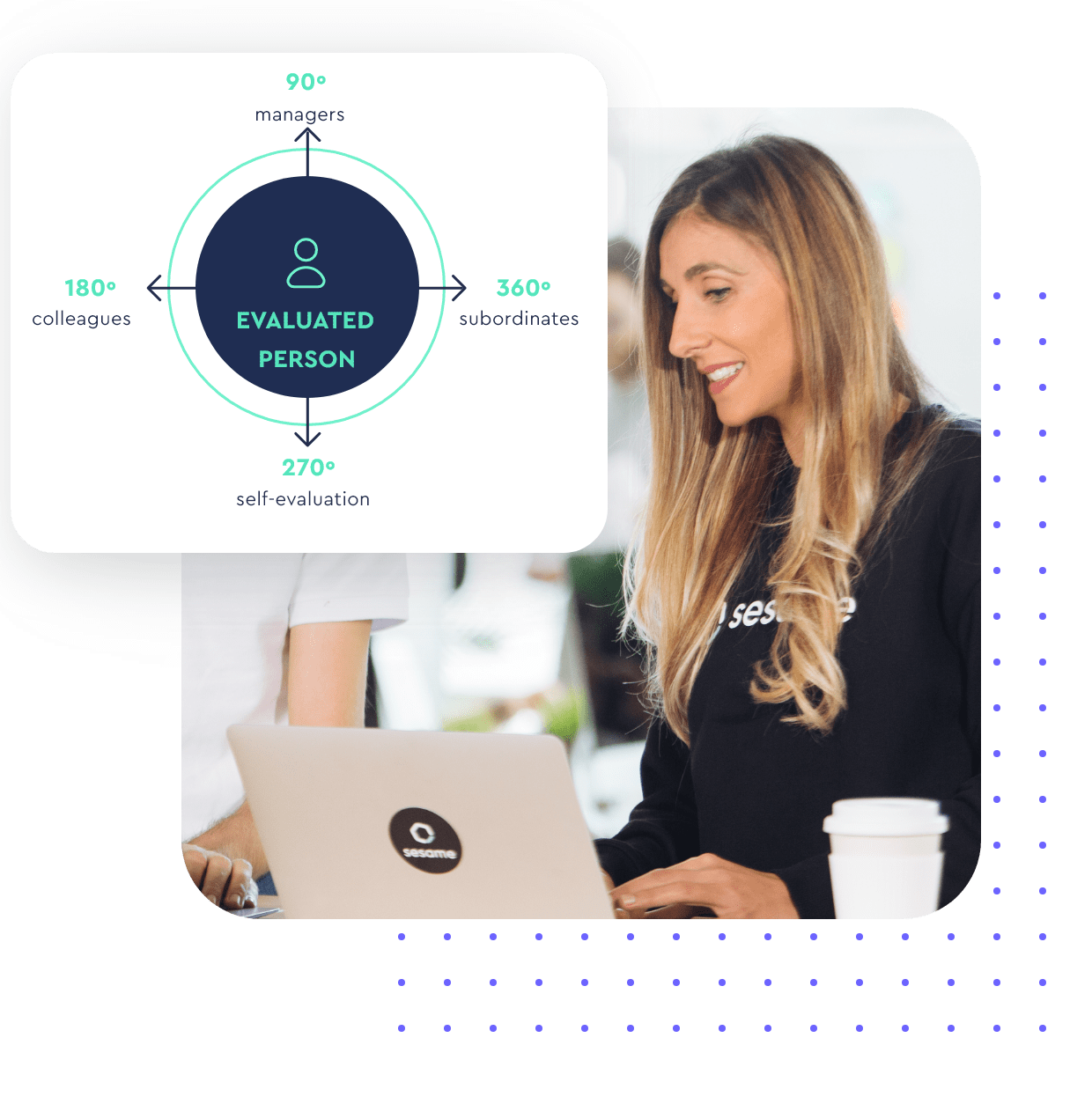 Schedule questionnaires
When information flows, it's all easier
Analyze performance with time-saving automations
Performance evaluation questionnaires
Use predefined templates and modify them as you wish or create them from scratch to customize them 100%
Schedule performance evaluations
Choose the day you want to send them or send them on the spot
Notifications to employees and managers
Automatically notify employees when they have an evaluation to answer and managers when they have completed performance evaluations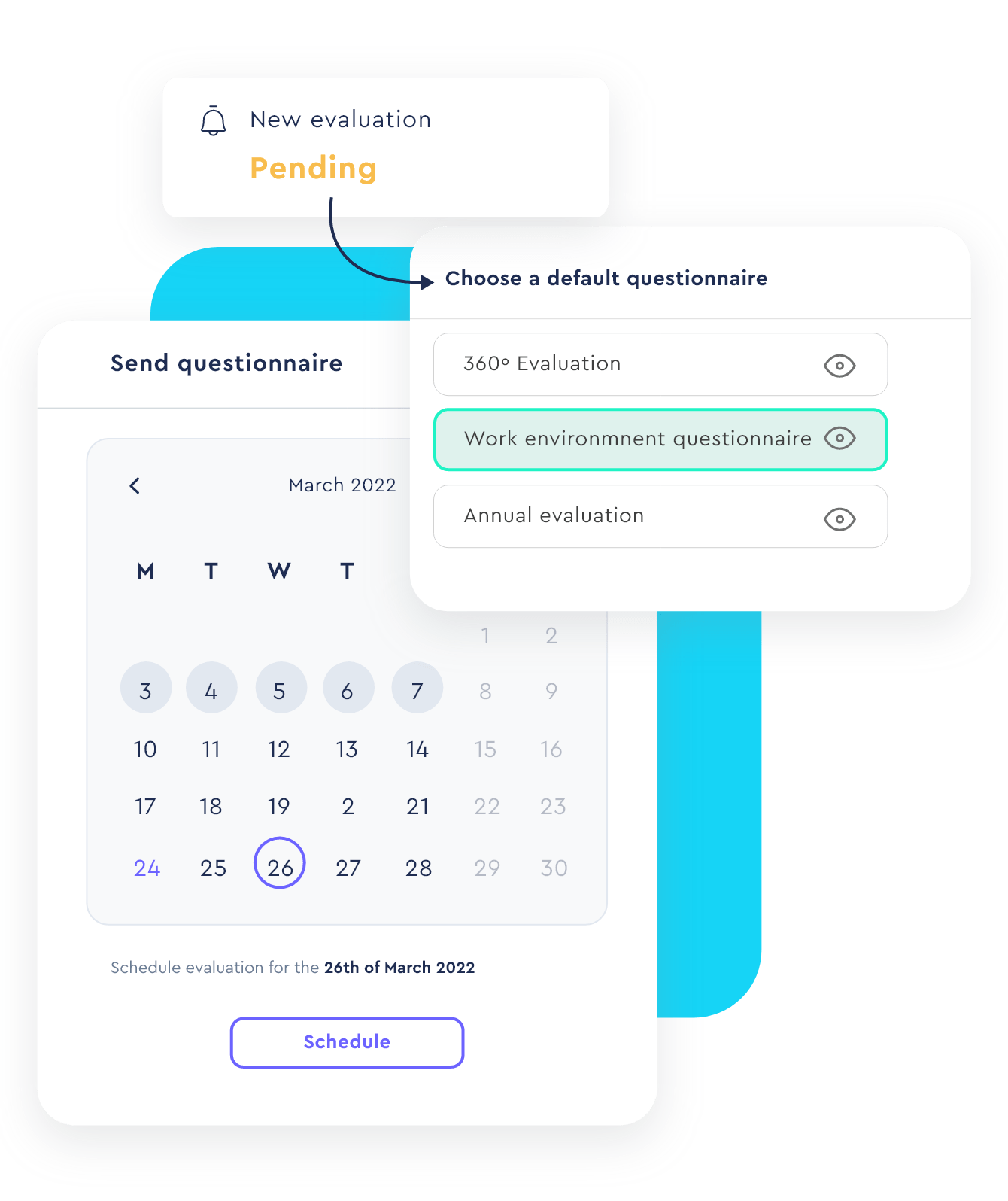 Visual results and centralized information to help you make better decisions
Visualization of survey results
Survey results of an employee in one place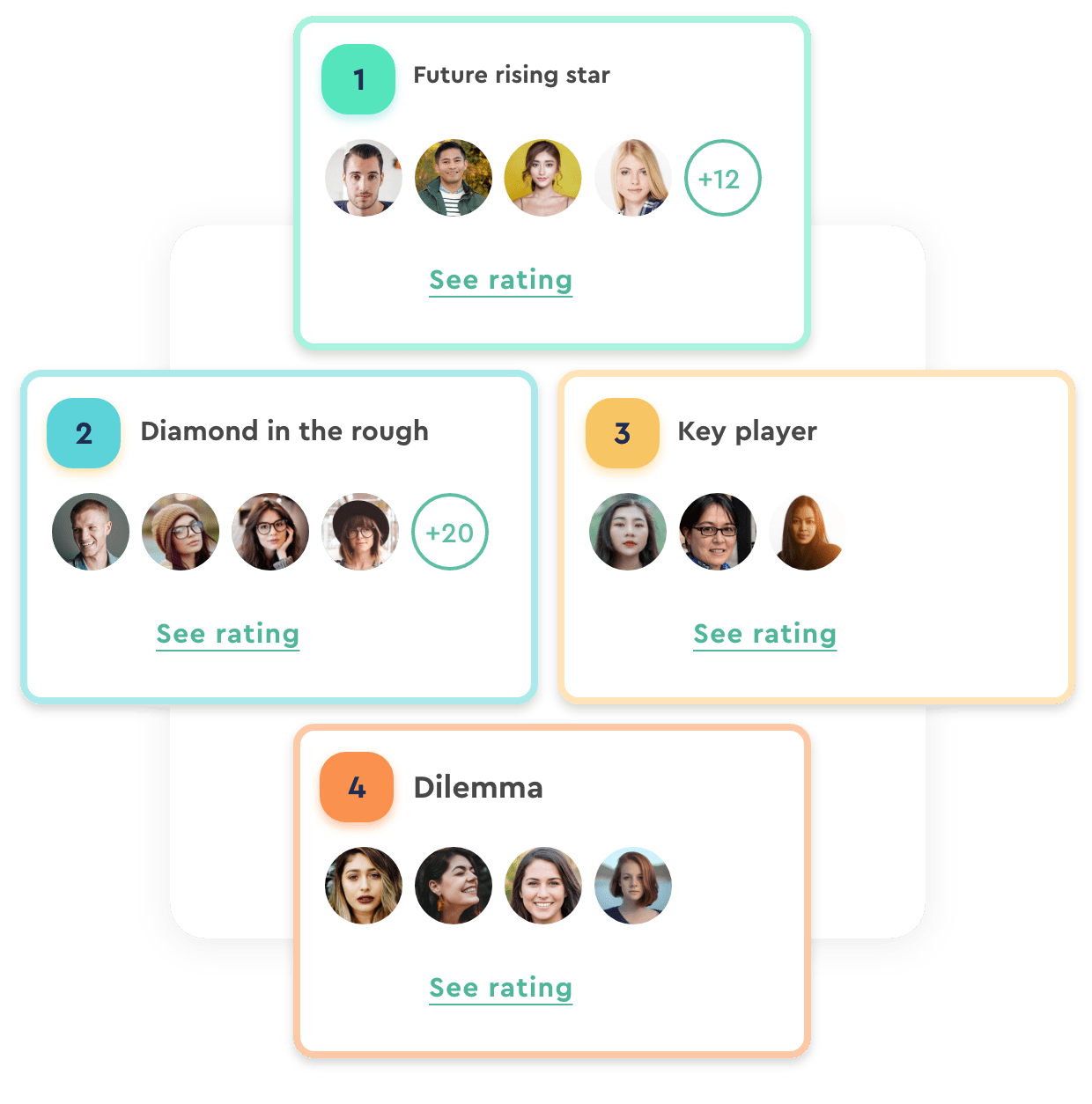 Results also in Organizational Chart
Visualize the answers in a color map in a clearer and more intuitive way. An overview that will help you to analyze the information easily.
Boost your team's growth through questionnaires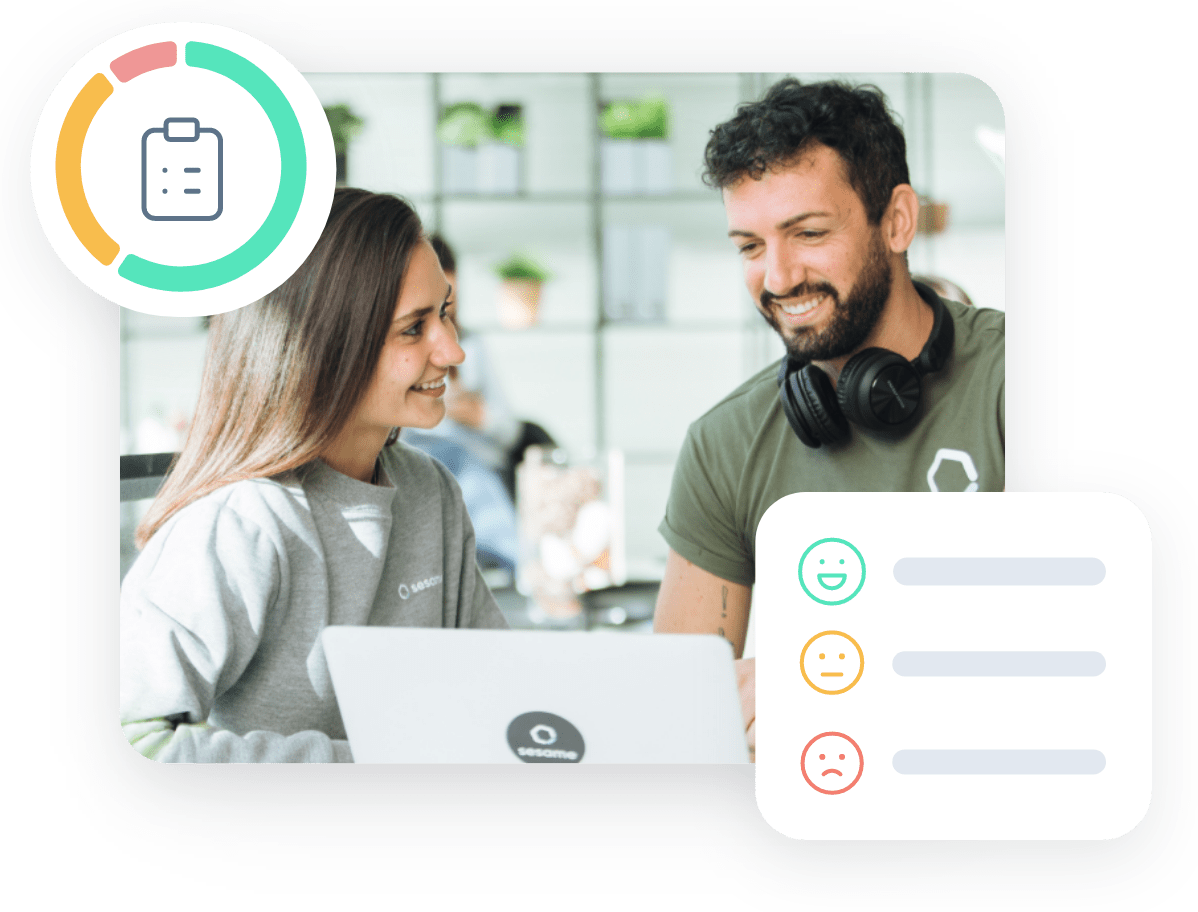 1
---
Quickly detect conflicts and anticipate problems
2
---
Encourage reskilling, find opportunities and make up for shortcomings
3
---
Collect useful information to create career plans, trainings...
4
---
Improve communication between employees and managers and motivate your team
Evaluations
Performance evaluation methods
Use the performance appraisal tool that best fits your needs
Nine Box evaluation: potential + performance
Workplace satisfaction surveys
Employee job satisfaction questionnaires
Personalized questionnaires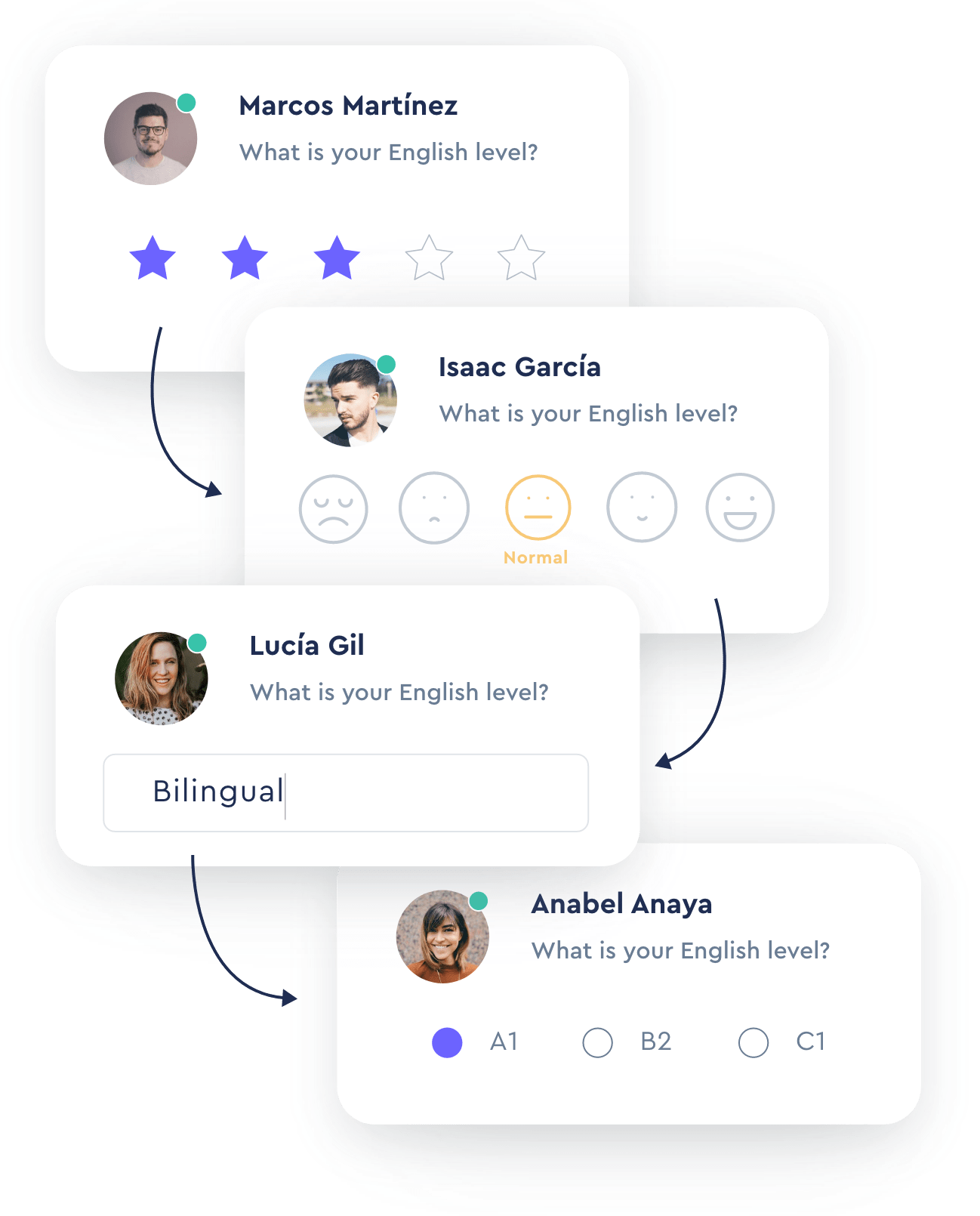 One to one
Manage "One to one" evaluation meetings to give feedback to the team
An organizer from which you can schedule follow-up meetings between managers and employees individually
Visualize meetings
You will have a view of all the "one to ones" that will allow you to avoid overlaps or duplicates.
Keep track of the "one to ones"
Keep track of which managers each employee has met with and on which date.
Add comments
On each meeting to make it easier to follow up on the employee by different managers.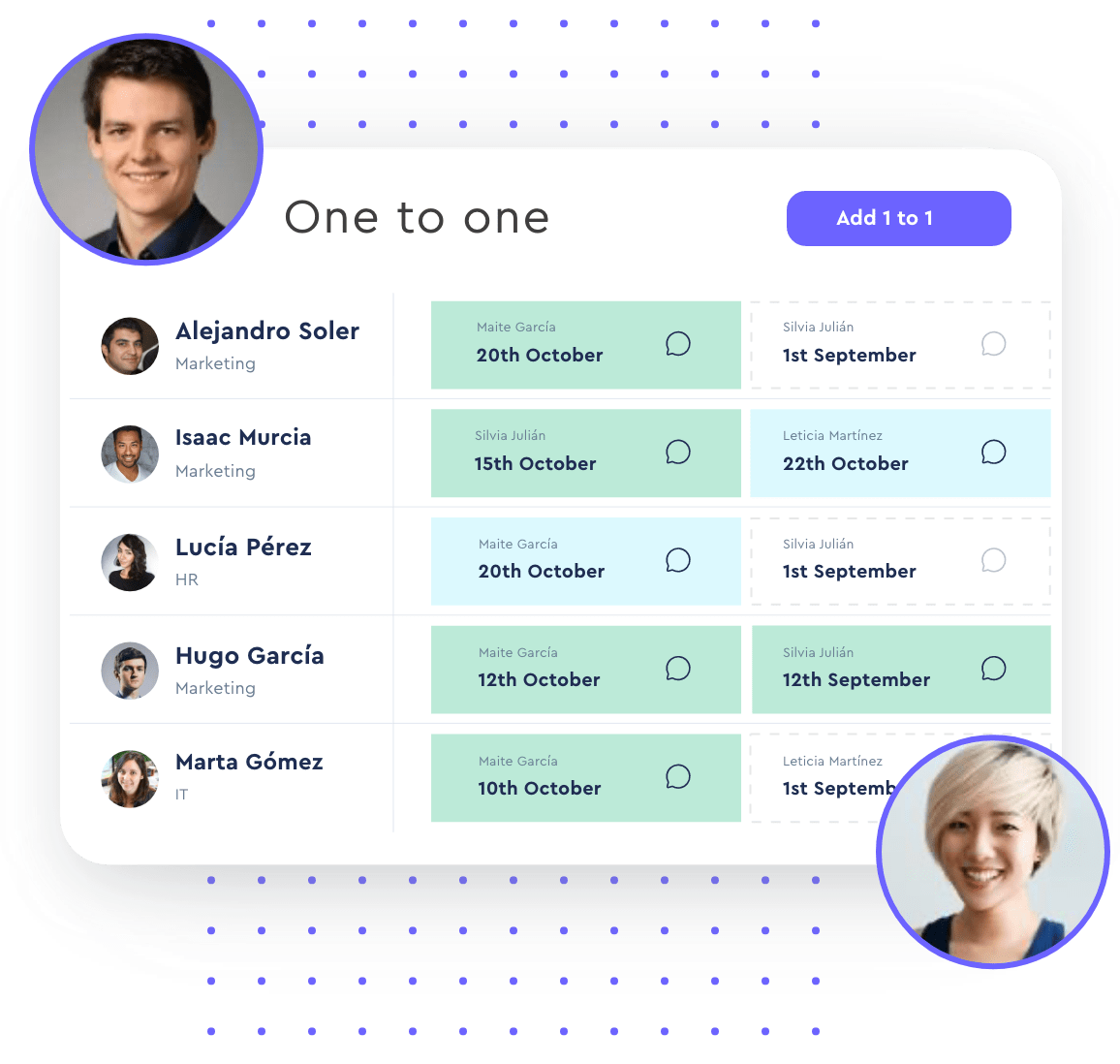 Secure information and data privacy
Choose who accesses performance evaluation results
Encrypted information
The security of your data is important. Avoid information loss in a secure performance management system.
Roles and permissions system
Always be in control of who has access to employee performance appraisals.